ESTRENO EL 20 DE JULIO
Tráiler oficial de PERSECUCIÓN AL LÍMITE, protagonizada por Anthony Hopkins y Ben Kingsley
Collide está dirigida por Eran Creevy (Welcome to the Punch) y protagonizada por Nicholas Hoult (Mad Max: Furia en la carretera); Anthony Hopkins (Westworld); Ben Kingsley (Exodus: Dioses y reyes); y Felicity Jones (La teoría del todo).
Redacción
13 de Junio de 2018 (11:39 h.)
Nicholas Hoult ("Mad Max: Furia en la carretera", "X Men: Apocalipsis", "Jack, el cazagigantes"), la nominada al Óscar Felicity Jones ("Rogue One: Una historia de Star Wars", "Inferno", "La teoría del todo"), el ganador del Óscar Anthony Hopkins("Thor: Ragnarok", "RED 2", "El silencio de los corderos") y el ganador del Óscar Ben Kingsley ("Exodus: dioses y reyes", "El médico", "El juego de Ender"), protagonizan un thriller de acción sin tregua, escrito y dirigido por Eran Creevy("Cruzando el límite", "Shifty") y que llegará a los cines el 20 de julio.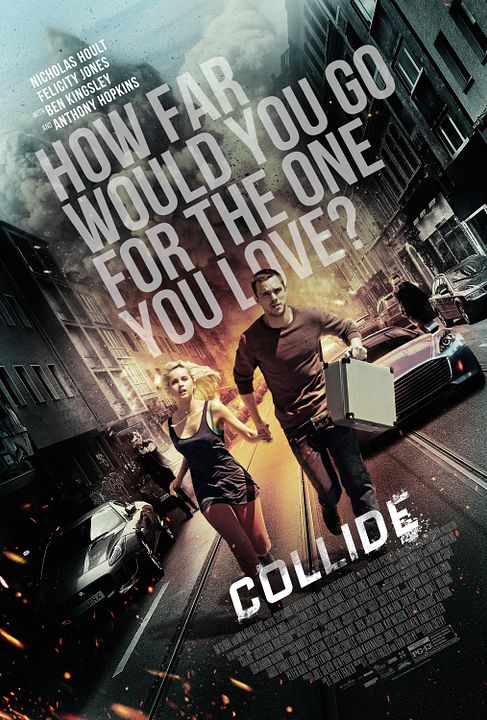 SINOPSIS

Casey (Nicholas Hoult) se ha enamorado de Juliette (Felicity Jones). Cuando a Juliette le diagnostican una enfermedad mortal, Casey elabora un plan para robarle a Hagen (Anthony Hopkins), un peligroso criminal, y poder pagar el tratamiento médico que salvaría la vida de Juliette.

El plan de Casey, sin embargo, no sale como él espera. Tendrá que emprender una huida en coche por toda Alemania para salvar su vida y llegar a Juliette antes de que los hombres de Hagen la encuentren primero.